My neck hurts as I type this. Not majorly, but just enough to remind me that I have put it through years of torture and disrespect. And perhaps my poor neck would be best served if I never wrote again, since that often makes things worse. But that's pretty unlikely.
Oh, I thought about it. Giving up writing completely so there is less stress of the kind that got me here in the first place. But not writing at all would be even more painful to me. So I write less and treasure the moments.
But hopefully YOU don't need to go through this. So I'm offering this as a tale of caution — so that you don't do to yourself what I did to myself. If your neck hurts or back or any part of your body hurts while you are working on an electronic device, this is for YOU.
"Sit up straight!"
I used to hear those words from a man I dated. Unfortunately, I took it as criticism (which in his case it may have been). So I quickly put the thought out of my head. After all, I was still young and my body was doing just fine without his advice.
And I know many people have heard those same words from their mother. Or perhaps a helpful friend or colleague. But, as much as I resisted, I now say to to anyone who is slumping or hunched over your computer or letting your shoulders ride up toward your ears …. posture up!
The quality of your life years later may depend on it. Mine sure has been affected by it — and not in any way you would want to imitate.
What years of computer work did
Whether working on a laptop or desktop or even using your phone, notice the position of your head and neck. An average head weighs about 10 pounds, and some or all of that weight is pulling on muscles if not aligned properly.
Over time, strained muscles can "forget" how to relax. That's what happened to me. And once one set of muscles started tightening (add in lots of work stress), other muscles joined the club. As in that old song: "the neck bone's connected to the head bone …" etc.
Now my neck hurts often. And I can only work on my computer for short periods without adding even more tightness. While I don't need to share all the details, this has affected other parts of my body and the quality of my life as a whole. Which is why I'm writing this as an early warning signal to you.
Some tips to help with workplace stress
What sitting up straight means
I try to push my shoulders back thinking that's better. But when I do that, it actually strains my neck and upper chest muscles. And, even if it feels like you are sitting up straighter when you do that, you may not be relaxing your shoulders. And that will pull on and stress muscles in other places.
Also. notice your eye level in relation to where the screen is. I found a good example of proper body and eye alignment at MyHealth.Alberta.Ca.
Why you need to posture up now
Well, actually even if your neck doesn't hurt yet, good posture really does make a difference. And so does taking breaks and regular stretching. I know when we get caught up in our work (or online play), it's easy to just keep going and going.
But the way you treat your body today can have a multitude of good (or bad) results later on. I worked in tech for many years, and I was not the only person with work-related physical issues … and disabilities.
So why risk it? Be kind to your body now, and it will be much more kind to you later on. 🙂
Another posture up example
I found this on the Cleveland Clinic website. In this case, it shows the proper sitting position in general, but also offers some great tips. For more ideas from them on back health and posture click here.
Correct sitting position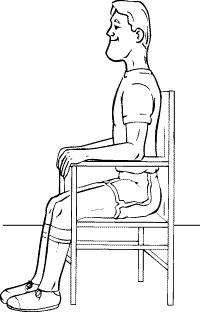 Sit up with your back straight and your shoulders back. Your buttocks should touch the back of your chair.
All 3 normal back curves should be present while sitting. A small, rolled-up towel or a lumbar roll can be used to help you maintain the normal curves in your back.

Sit at the end of your chair and slouch completely.
Draw yourself up and accentuate the curve of your back as far as possible. Hold for a few seconds.
Release the position slightly (about 10 degrees). This is a good sitting posture.

Distribute your body weight evenly on both hips.
Source page: Back Health & Posture, Cleveland Clinic
Some articles you may enjoy
And if you do need to quit your job